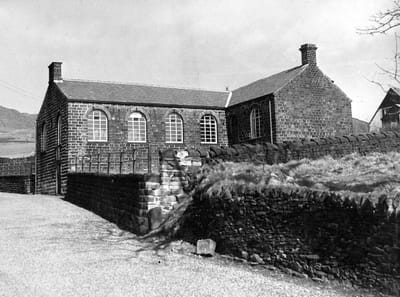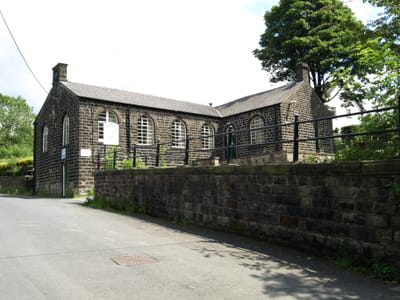 In 1810, under the Enclosure Acts two plots of land were granted to Mr C J Buckley and 25 others for building a public school at Boarshurst. A condition was to build the school within 3 years.
There was no national system of education before the 19th century, and only a small section of the child population received any schooling.
The school was funded through public subscription and thirty-seven people promised amounts of subscriptions, equal to £291 7s. 6d. It was agreed that anybody who contributed more than £10 should be a trustee of the school.
It was resolved that the major part of the trustees for the time being should have the appointment of the schoolmaster, and also of discharging him for misconduct or misapplication and also of all other arrangements respecting the school.
It was also resolved that the said school shall be twelve yards in length and eight yards in breadth, with a boarded floor, and one storey high.
The school was opened in the year 1814 and named Boarshurst Academy and later Boarshurst School. Mr. James Platt, of Prospecton, was appointed the first master of the school.
The school was also used as a Sunday School from the very start, and was undenominational. Children of the working classes only attended on Sundays where they picked up a smattering of education.
In 1872 the school was registered for the solemnisation of marriages, but very few took place.
In 1874 the old school had become too small for its purpose and an extension was necessary. This was again funded through public subscription and the amount of £400 quickly raised.
The school had a high reputation for many years and with the dwindling hillside population and opening of other schools in the area caused a reduction in its numbers. At the end of March 1910, the school was closed as a day school.
The Boarshurst School Foundation was approved by the Board of Education on 1st June 1917 with representatives from the local community as well as representatives from Saddleworth Urban District Council, Springhead Urban District Council, Mossley Borough Council, West Ridings County Council, Boarshurst Sunday School becoming Co-operative Governors of the Foundation.
At the first meeting Mr George Booth of Tunstead, Greenfield was elected as Chairman. It was also moved to open a bank account with the Manchester and County Bank in Uppermill in the name of 'Governors of Boarshurst Educational Foundation'.
The building was used by Boarshurst Sunday School. By 1925 the Boarshurst Brass Band was allowed to use the school for two nights per week for £8 per annum, but such a use was not to 'interfere' with the work as a Sunday School. By 1928 the building was also leased to the Greenfield Amateur Dramatic Society for painting scenery. Between 1948 and 1968 St Marys Boys Brigade used the school.
By 1969 the Saddleworth Outdoor Pursuits Committee started using the building and continues to run the centre to the present day.
Photographs courtesy of Peter Fox, Saddleworth Museum